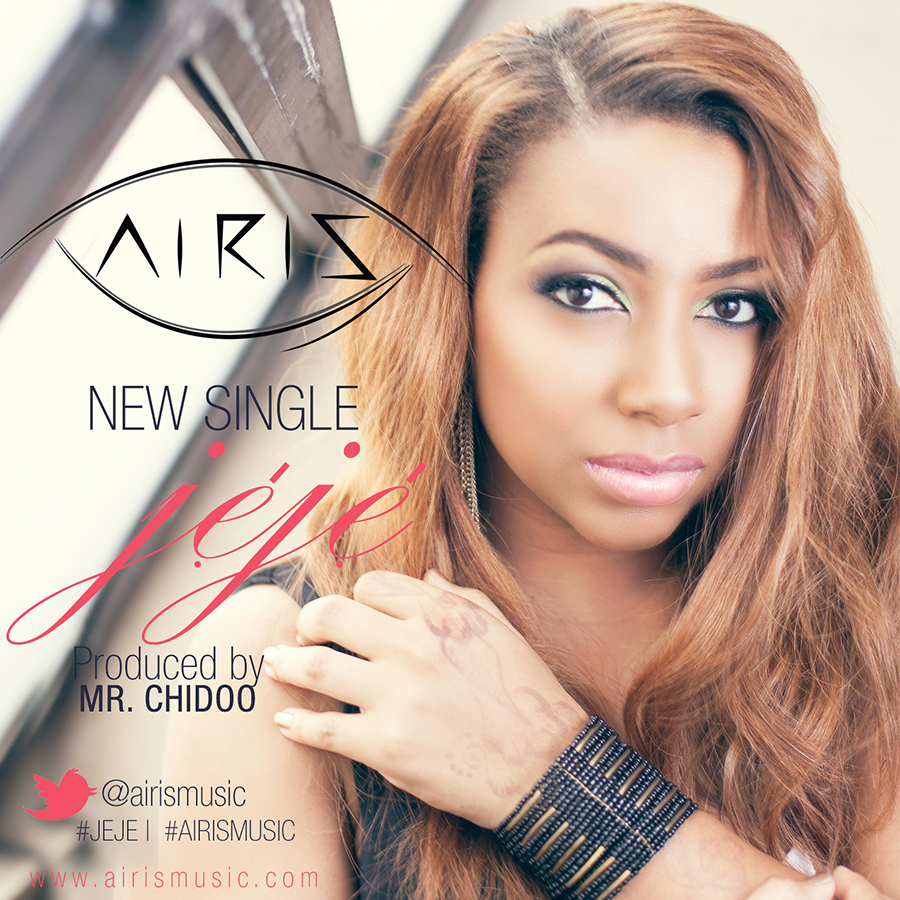 The Single  Jéjé from the upcoming debut Album 'Yours Truly' will be released on Friday, July 5, 2013
 The suspense is over. After 3 years of waiting, Pop/Soul/RnB Egyptian/Nigerian Recording Artist AiRis returns to her passion for music, with the release of another new hit single Jéjé to be launched on Friday, July 5, 2013. Produced by MR. CHIDOO and part of an upcoming full album project tagged 'Yours Truly', a ten track album that will be released in the spring of 2014. Jéjé is a return to romance music that inspires communication with lovers.
Two singles will be pre-released off the album before the launch in the spring. 'Jéjé' means 'Take it easy' in Yoruba, and AiRiS sings about a loved one taking it easy on her and trusting her love for him. AiRis's beautiful soulful vocals rides against a backdrop of African talking drum beats and soothing band arrangements of horns and piano licks. The upbeat Afro-pop romantic song will be a favorite among couples sorting out issues or trying to solidify their bond. Jéjé is a good dance track.
…"One thing in particular about AiRis is the fact that she understands her music "sound" which makes the working process very easy. "Working with AiRis on the song Jéjé was about experimenting. We wanted to create a unique sound, then we thought of using some Afrobeat influences. It came out all well." — Producer, MR. CHIDOO.
o listen to the song on the release date (July 5, 2013), fans can log on to www.airismusic.com. The website provides the media and the growing fan base of AiRis with a place to read, all news about AiRis, including brand new images, videos, a blog and special giveaways for fans.
About AiRis 
AiRis is a singer and songwriter who stepped into the African music industry scene in 2009. Greatly influenced by Mediterranean, rock, pop and African music, AiRis is truly an international Artist. Born in Cairo, Egypt to a Nigerian Father and an Egyptian mother, AiRis spent her young adult years between Nigeria, United Kingdom and Egypt. In the fall of 2009, AiRis moved to Nigeria to pursue her singing/song writing career and in the spring of 2010 she created AiRis Music, her own record label. In creating her music, AiRis tries to convey her feelings, experiences, and those of others in the words and rhythm of her style. Her style of music is alternative pop and soul with various cultural influences, specifically African.
Her work brings a unique mixture of pop and soul to the African music industry. Her sound addition to the music industry opens a new door for the African Entertainment Industry internationally. Media interested in setting up an interview with AiRis about the new release should please contact us at press(at)icypr.com  or telephone: 305.549.3676. For bookings and appearances, contact Tobi Odusina: telephone: 0816 356 7179, e-mail: tobiodu@gmail.com. Fans of AiRis can also connect to her via Social Media: Twitter, Facebook, MySpace and YouTube or on her Website – www.airismusic.com
For more information, please contact ICY Public Relations
T: 305.549.3676
This is an ICY report!