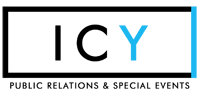 For Immediate Release
ICY PUBLIC RELATIONS KICKS OFF THE 2009 SUMMER SEASON WITH THREE NEW CLIENTS: A-LIST NOLLYWOOD ACTRESS STEPHANIE OKEREKE, LOS ANGELES HANDBAG DESIGNER OLASUNBO AND, MIAMI TRAVEL CONSULTANT GROUP PREMIER GUIDE MIAMI.
MIAMI. FL – ICY PR is pleased to announce representation of three new clients on its 2009/20010 roster. A-list Nollywood actress Stephanie Okereke, Handbag designer Olasunbo and travel consultancy group Premier Guide Miami.
STEPHANIE OKEREKE – Nigerian Actress Stephanie Okereke came into the Nollywood scene in 1997 as a student at the University of Calabar. After graduating, her thirst for an acting career propelled her into Nollywood fulltime. Stephanie made her mark with the movie Emotional Crack which premiered at the African Film festival in April 2004. With Over 90 films to her name, Stephanie Okereke is continually building her brand in the movie industry. A recent graduate of the New York Film Academy Stephanie has expanded her title to include Director, producer and writer with the introduction of her latest movie: Through the Glass which premiered at the Silver Screen Theatre of the Pacific Design Centre on October 18th 2008 in Hollywood, California. Stephanie is setting her goals to include Hollywood.
HANDBAGS BY OLAS– Olasubo Lawal owner of Handbags by Olas got inspired to open her own line of handbags after a life changing trip to China in 2007. Her goal was to create a line of Stylish handbags that caters to contemporary, young, and fashion conscious women. Armed with a bachelor's degree in Business Administration from the University of San Francisco and years of experience working with today's top fashion brands and retailers like Macy's, Gap Inc, Christine Foley, Issey Miyake and Karen Millen, Ola completed her Masters in Fashion Marketing from the London College of Fashion In December 2008. She moved to Los Angeles thereafter to grow a fashion brand that offers simplicity, fashionable edge, and subtle yet drastic details.
PREMIER GUIDE MIAMI – Owned by Miami Socialite Daedrian McNaughton Premier Guide Miami was created to provide exclusive rates and services to the jet setter on a budget. Through its affiliations with major car rental companies, hotels, airlines, cruises, yacht, jet charter companies, ticket vendors and tour operators, PGM is able to offer its clients VIP rates and services at a very affordable price. At PGM, everyone is treated like an affluent client with easy access to industry rates not offered to the public, preferential treatment offered to members at major hotels and events, memorable experiences offered through its personalized services, the quality and recognition of their professional services partners and access to exclusive offers only available to PGM's Insiders.
To see the profiles on our clients, please visit us online at www.icypr.com
For more information contact:
ICY Public Relations
Yetunde Taiwo
T: 305.549.3676
F: 215.326.7302
E: yetunde@icypr.com
W: www.icypr.com
# # #