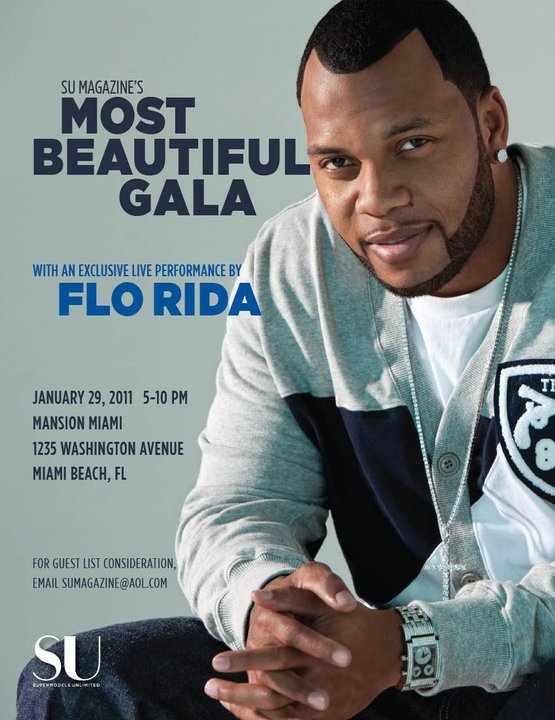 For Immediate Release
SUPERMODELS UNLIMITED MAGAZINE HOST "MOST BEAUTIFUL GALA" PARTY OF THE YEAR AT MANSION ON SATURDAY, JANUARY 29TH 5 PM. HEADLINING THE EVENT WITH A PERFORMANCE IS RAPPER FLO-RIDA!
Supermodels Unlimited is premiering its 2011 issue in Miami. Nolé Marin of America's Next Top Model will walk the red carpet.
MIAMI, FL —On Saturday, January 29, members of the press are invited to attend an exclusive red carpet event for Supermodels Unlimited Magazine's Most Beautiful Edition 2011, as they host the party of the year in Miami with 2 fashion shows, a live performance by Official Hot Mess and an exclusive live performance by FLO RIDA! Several top agencies and managers, sport celebrities, and fashion industry celebrities will also be in attendance including Nolé Marin of America's Next Top Model (scouting for AIM Model Management).
The Supermodels Unlimited Magazine's "Most Beautiful Gala" will take place at Mansion 1235 Washington Ave., Miami Beach, Florida 33139 5 pm prompt. The 2 fashion shows will feature, "Miami Angels" Children's Fashion Show presented by Ashes Roses le Couture and -"Couture Nights" presented by Bessie's Boutique.
It will be a night of celebration, networking and entertainment featuring a star-studded Red Carpet event, VIP Reception, Fashion Shows, Live Performances and Industry Networking Party. The event promises to be nothing short of sensational with an exclusive VIP guest list. Guests will be entertained with music by Flo-Rida's DJ throughout the evening.
The event is not just the Miami debut of Supermodels Unlimited Magazine, but also of their most prestigious issue of the year, The Most Beautiful Edition. Having Supermodels Unlimited magazine in Miami will also provide new opportunities for local talents and serve as a platform for young and new models to learn about the industry. Admission to the event is by guest-list only, to be added to the guest-list, send an e-mail with your name and phone number to sumagazine@aol.com. This is a charity event supporting Susan G. Komen for the Cure. A suggested donation by check of $40 can be made to Susan G. Komen Fund. Checks will be collected as guests check in at the door. Guests on the list will be allowed with or without a donation.
ABOUT SUPERMODELS UNLIMITED
Supermodels Unlimited Magazine is a bi-monthly publication and the only magazine on the women's market that focuses on the entire beauty industry. Each issue is packed with fresh fashions, celebrities, modeling advice, new faces and more. For more information on the event, please log on to www.facebook.com/SupermodelsUnlimitedMagazine.
Media and Press for Live Coverage on the Red Carpet are invited–For more information and to RSVP, please contact
ICY Public Relations
Yetunde O. Taiwo
T: 305.549.3676
E: press@icypr.com
W: www.icypr.com
-###-