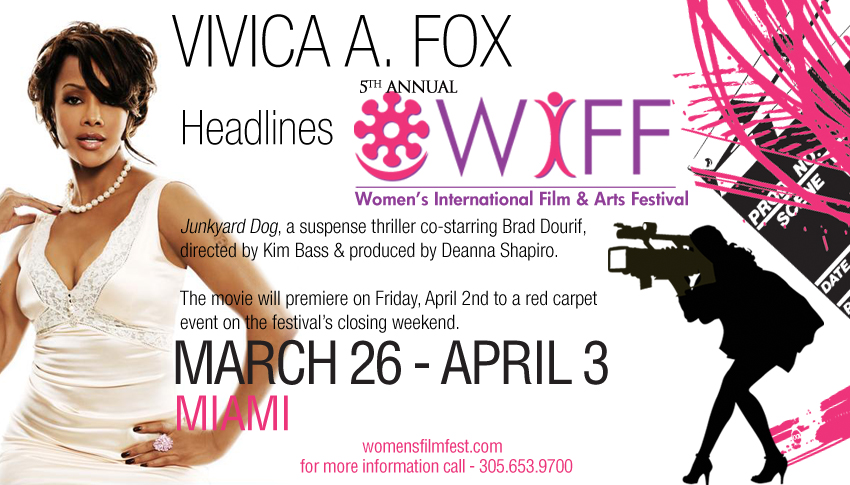 FILM & TELEVISION ACTRESS AND PRODUCER, VIVICA A. FOX HEADLINES THE WOMEN'S INTERNATIONAL FILM AND ARTS FESTIVAL
In celebration of its 5th year anniversary in Miami starting on Friday, March 26th
MIAMI, FL — The Women's International Film and Arts Festival will be celebrating its 5th anniversary from March 26th – April 3rd, 2010 in Miami, Florida. The headline movie for the Festival features Hollywood Star, Vivica A. Fox in Junkyard Dog, a suspense thriller co-starring Brad Dourif, directed by Kim Bass and produced by Deanna Shapiro. The movie will premiere on Friday, April 2nd to a red carpet event on the festival's closing weekend.
The 5th annual Women's International Film Festival (WIFF) promises to be internationally star packed. With almost 400 films received from more than 30 countries this year, the nine day festival will screen 68 films all about women in one of the most popular cities of the world–Miami. This year's films feature notable actors from around the world such as: Ali Zahoor (The EastEnders), Hassani Shapi (Star Wars I &II and James Bond: The World is Not Enough), Narinder Samra (Silver Street), Christopher Villiers (Bloody Sunday), Elaine Hendrix (Parent Trap), Holly Robinson Peete (Hangin' With Mr. Cooper), Vanessa Simmons (Run's House, Daddy's Girls), Natasha Lyonne (American Pie) and many more.
This year's event will feature the festival's "WIFF Around the Globe" theme.  A nightly celebration focusing on regions of the world: North America, Africa & Its Diaspora, Europe, India, Asia and the Caribbean with films, food, drinks and other cultural components. In addition, on March 28th there will be a Celebration of Women Concert/Family Fun Fest featuring Sony Latin America Artists. The festival also offers the "Women's Empowerment Series" hosted by the University of Miami, which presents films addressing women's issues.
WIFF has garnered unwavering support by many of the most prominent women in the industry and South Florida.  Notable mentions include Emmy, Grammy & 2008 Golden Globe Award Winning Actress (American Gangster) and WIFF Founding Honorary Chair Ms. Ruby Dee; and 2010 Honorary Chair Rep. Debbie Wasserman Schultz, US Congresswoman; 2007 Oscar nominee Adriana Barraza ("Babel"); "The Breakfast Club's" Alley Sheedy, international performing artist Lucrecia, Nighttime TV host Chelsea Handler and many more.
"I am honored to participate in the 5th annual Women's International Film Festival. This festival not only showcases the talent of women across the world; it brings them together to share in a dialogue about issues concerning women through arts," said Congresswoman Debbie Wasserman Schultz.
The Festival is anticipating over 10,000 attendees for this year's event. 2010  sponsors include Sony Music- Latin, The Miami-Dade County, City of Miami, United States 2010 Census, Barefoot Wine and Bubbly, New Times, WLRN, WPBT, Miami Science Museum, The Opium Group, ICY Public Relations, Greater Miami Host Committee Inc., Mega TV, GoLiveMiami.com and Opera Suites and Marina.
About The Festival
The Women's International Film & Arts Festival (WIFF) is a unique, cultural event featuring films, visual and performance arts and other artistic expressions by women. Founded by a truly International individual, Yvonne McCormack-Lyons has spent the past 20 years in the fields of communications and women based arts and culture programs. Mrs. McCormack-Lyons is a Canadian citizen, a second generation Jamaican, who was born in England, raised in Canada and now resides in Miami Florida. A graduate of Howard University Washington D.C., and York University Toronto, Canada, Mrs. McCormack-Lyons has been spearheading the award winning Women's International Film & Arts Festival for the past four years.
It is one of only two film festivals in the Southeastern United States specifically dedicated to women, recognizing their brilliance and accomplishments. The opening night of the festival will be held at the Miami-Dade County Auditorium, 2901 W Flagler St, Miami, FL 33135 on Friday, March 26, 2010.
For a preliminary listing of the 2010 Festival films, log on to www.wiffonline.org/program.php . A complete schedule of films will be available on Friday, February 26th.  To learn more about the Women's International Film and Arts Festival, visit www.womensfilmfest.com

For more information contact:
ICY Public Relations
Yetunde O. Taiwo
T: 305.549.3676
W: www.icypr.com