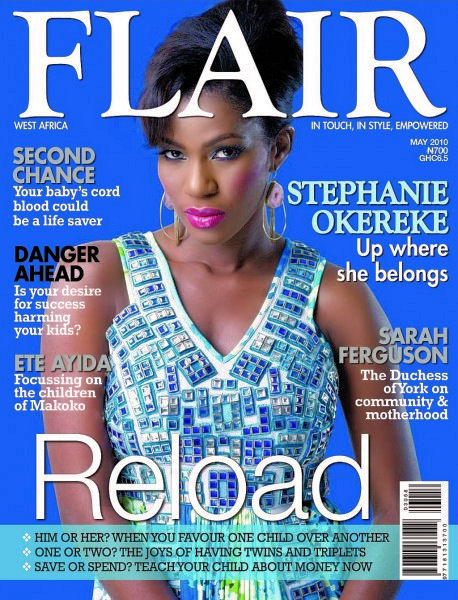 For Immediate Release
STEPHANIE OKEREKE TAKES FRONT COVER OF THE NEW FLAIR MAGAZINE
Editor – Bola Atta takes magazine publishing in a new and fresh direction as she brings back Flair magazine which was being published in the late 90s.
LAGOS, NIGERIA — A-List Actress and Director Stephanie Okereke is the premier Cover Story for the new Flair West Africa magazine, run by executive editor, Bola Atta who was also the executive editor of True Love West Africa magazine. The 2009/2010 season has been good for Stephanie Okereke. She has been the feature story for over a dozen publications including Ladybrille Magazine, MIMI magazine, Exquisite, Totally Whole, Flair and more.
Bola Atta's decision to use Stephanie Okereke on the cover was fitting of the new FLAIR brand.
"Stephanie Okereke is a delight to photograph. Beautiful woman and very professional. She is never late for a shoot and works the camera nicely. She has gone through quite a rough period in her life recently but has emerged stronger, more confident, more beautiful inside and out. Her story is inspiring and she represents the type of woman Flair West Africa is talking to. It was a perfect decision for our first cover"- Bola Atta, Editor Flair Magazine West Africa
The focus of the new Flair is the empowerment of women. Specifically the African woman.  It is akin to a sisterhood. It's like getting together with your friends or sisters, the hope is that through the pages of Flair West Africa, readers can share their experiences, passions and lifestyles in a way that uplifts them.  It is all about positive influences that will inspire the reader even if in a small way.
"I am truly honored and humbled by Bola's decision to have me on the cover. I look forward to reading the many issues of Flair and I wish the team all the success in the world."-Stephanie Okereke
Stephanie Okereke came into the Nollywood scene in 1997 as a student at the University of Calabar. After
graduating, her thirst for an acting career propelled her into Nollywood fulltime. Stephanie made her mark with the
movie Emotional Crack which premiered at the African Film festival in April 2004. With Over 90 films to her name,
Stephanie Okereke is continually building her brand in the movie industry across the world. A graduate of the New York Film Academy, Stephanie has expanded her title to include Director, producer and writer with the introduction of her latest movie: Through the Glass which premiered recently at the Cannes Festival in France in May 2010.
Media interested in setting up an interview with Stephanie Okereke should contact us at info@icypr.com. For more information on Stephanie Okereke please visit www.stephanieokereke.NET .
For more information contact:
ICY Public Relations
Yetunde O. Taiwo
T: 305.549.3676
E: info@icypr.com
W: www.icypr.com
-###-