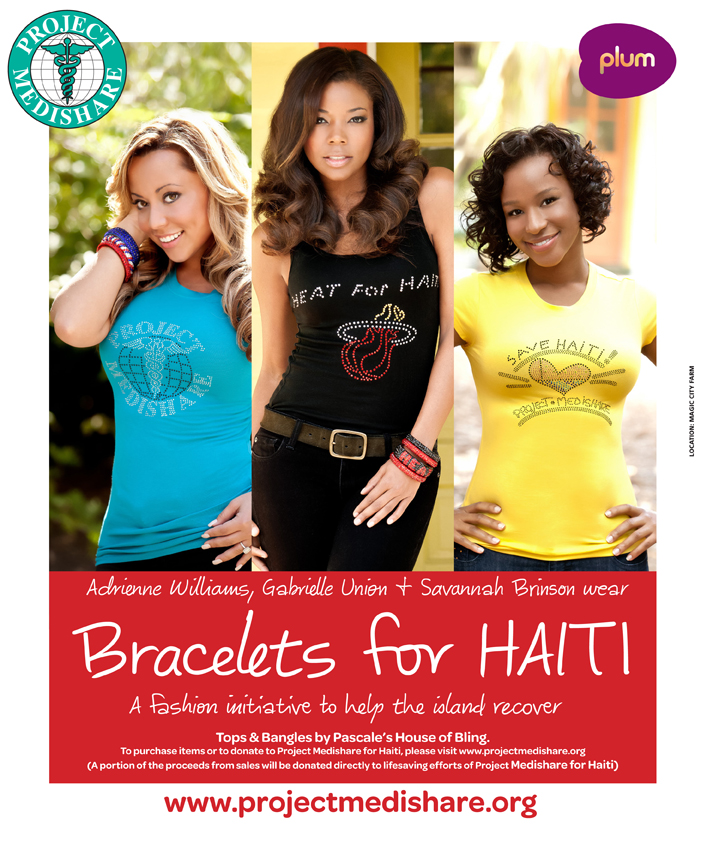 Press/Media Contact
Yetunde Taiwo
ICY Public Relations
(T): 305.549.3676
info@icypr.com
For Immediate Release
Miami designer Pascale's House of Bling partners with Project Medishare for Haiti to design exclusive "Bling" Swarovski embellished bangles for Haiti
__________________________________________________________________________________________
The bangles are worn by actress Gabrielle Union, Adrienne Williams & Savannah Brinson
MIAMI, FL August, 2011 — Pascale's House of Bling has created an exclusive line of Swarovski crystal embellished bangles and tank tops to help raise funds for Project Medishare for Haiti, Inc.; a non-profit organization founded in 1994 by Drs. Barth Green and Arthur Fournier that is dedicated to sharing its human and technical resources with its Haitian partners in the quest to achieve quality healthcare and development services in Haiti. Gabrielle Union, Adrienne Williams & Savannah Brinson, have modeled these bracelets for Haiti in issue two of the new Plum Magazine. These bracelets are a fashion initiative to help the island of Haiti recover. Project Medishare treated over 180,000 critically ill and injured patients in the last year and they continue to save lives every day.
The idea was to create items that are fashionable yet complimentary to any woman's personal style and be effective in making a difference. The signature "Bracelets for Haiti" bangle has over 200 Swarovski crystals and is set to the national colors of Haiti: red, white and blue. These bangles can be purchased as a single item or as a set with 2 additional bangles. The line of Swarovski crystal embellished items to raise funds for Project Medishare for Haiti includes: Save Haiti exclusive bangle, signature Romero Britto designed tank tops and Project Medishare tank tops
"Haiti still needs our help. I am truly honored to be a part of Project Medishare and to be given an opportunity to create fabulous wearable art that are fashionable and functional for this wonderful cause. " – Pascale Rowe, Owner, Pascale's House of Bling
For more information on the bangles and tank tops, log on to www.projectmedishare.org or www.pascaleshouseofbling.com. Both sites are created on a non-Flash platform that allows for access from any phone, PC or Mac and is iPad and iPhone compatible.
ABOUT PROJECT MEDISHARE
Project Medishare is a non-profit organization that has been in Haiti since 1994, with a focus on community health and development, including programs in healthcare, education, clean water, malnutrition, protection for orphans and vulnerable children, HIV/AIDS treatment, agriculture and women's empowerment programs.  Project Medishare programs are listed below, but some highlights include, running the only trauma and critical care hospital in Haiti, with the only Neonatal and Pediatric Intensive Care Unit in the country caring for Haiti's sickest children, a prosthetics program which has put limbs on over 200 amputees with plans to do hundreds more, a comprehensive rehabilitation program including Haiti's first spinal cord injury unit for paralyzed patients, an amputee Soccer Team composed of Project Medishare patients, a major Cholera treatment center, and a school based health center program that treats over 20,000 children a year, and a community health program that provides comprehensive healthcare services to over 100,000 people in Haiti's poorest area.
ABOUT PASCALE ROWE
Pascale's House of Bling is the creative design of Pascale Rowe. Pascale's House of Bling Swarovski embellished signature bangles are carefully hand set in a variety of colors that will entice any woman. Each small bangle is endowed with almost 200 colorful Swarovski crystals and the large bangles have over 400 crystals on each piece. Pascale's "bling" creations range from computers, custom ordered branded shirts, cell phones, cameras more. Inspiration for Pascale's exceptional jewelry and pattern designs comes from beautiful colors, various moods and interesting shapes. She incorporates these elements with both current trends and her own ideas to convey glamour, sophistication and fun. This season's collection will have the addition of new "Swarovski Elements" colors; Citrine, Purple Velvet, Capri Blue, Topaz, Peridot, Jet hematite, Olivine, Sun and Fuchsia. Celebrities such as actress Lauren London, music artist Lil kim, The Queen of Comedy Sommore and reality T.V. Star, multi-hyphenate, Khloe Kardashian, have been seen in signature "Pascale" Swarovski crystal bangles and custom order "Bling Bamboo" earrings in an array of colors and styles.
For press inquires or an interview with Pascale Rowe, please contact us at info@icypr.com.

# # #